This content was originally posted as our contribution to Synergy Sponsorship´s blog. You can find the original link here. Find out more about our partnership with Synergy here.
by Bruno Scartozzoni and Guilherme Guimarães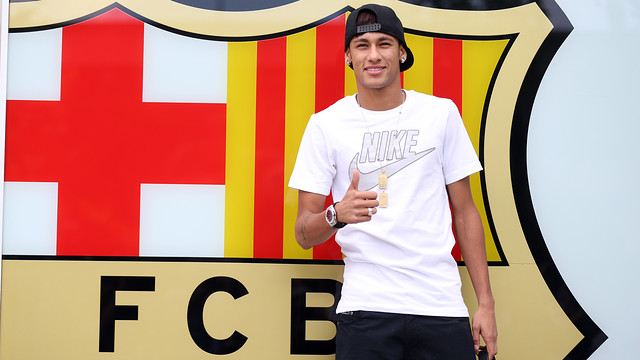 Alongside the 2014 FIFA World Cup, Neymar has been the biggest news in Brazilian football in the last few years, and one of the hottest topics in Brazilian advertising and marketing too. And now, with his move from Santos to to Barcelona, his stage has moved from Brazil to Europe and, maybe, the world.
Neymar is part of a generation of Brazilian players that, despite some very talented names, lacks the quality of Romário, Ronaldo, Rivaldo and Ronaldinho. He is still too young to already be considered part of this pantheon, but Brazilians hope he will get there soon.
On the other hand, Neymar is already a phenomenon in Brazilian brand marketing. It's almost impossible to turn the TV on in Brazil and not encounter him. He is everywhere, in every category: Nike, Panasonic,Unilever, Volkswagen, Santander and six other brands currently count on Neymar´s image to drive their brand and business in Brazil. And now, according to his new management, his next target is international budgets.
Mentos, the confectionary brand, was the most recent to announce Neymar as its face in Brazil. They did it last week, at the same time he was signing the contract with Barcelona. Asked about the fact that the player was leaving Brazil, Henrique Veloso Romero, the company's president, said that it didn't matter where he's living or playing, because Mentos is associating its brand with Neymar's story.
Actually, Neymar's story is part of a traditional Brazilian fairytale of the poor boy who becomes a global football star. The same thing happened to Pelé, Ronaldo and Ronaldinho, and all of them got the attention of Brazilian consumers. That's the reason why the Brazilian media is doing 24/7 coverage of Neymar´s new life in Barcelona: the arrival at the airport, the clothes he is wearing, the Spanish fans, his girlfriend's reactions, and so on. In this context his football skills appear to be secondary.
No one can question Neymar's appeal to brands and consumers. He has a good story to tell, bags of charisma, and the skills to score goals and deal with the media at the same time. The problem is that so far no brand has found some white space within the Neymar brand to communicate something unique and different. He is everywhere, but he is always doing the same kinds of testimonial and campaign.
Brand managers must consider that Neymar is an asset that carries some very characteristic values – goals, youth, irreverence, parties, beautiful women, trendy hairstyle, fairytale story etc. – but that these values can't apply to every possible brand, category and strategy, especially when so many other brands are using him in the same way.
And there are alternatives! A recent survey asked Brazilians which values footballer and non-footballer athletes convey, and the results were very interesting. Football players are usually associated with popular values and a Brazilian spirit. On the other side, athletes excluding football are more associated with trust, intelligence, beauty, modernity, and dressing well. Of course Neymar is an exception and can bring many of these values with him, but this research proves that football and football players – in particular Neymar – are not always the answer to brands looking to work with sports in Brazil.
Note: Neymarketing is a term coined by our friend and partner Tim Crow.
Bruno and Guilherme are partners at Ativa Esporte, the Brazilian sports marketing consultancy which is Synergy's partner in Brazil.
Comments